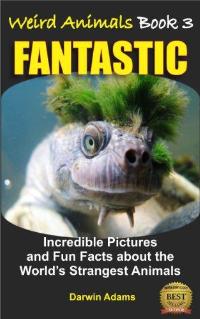 "interesting" "remarkable" "astounding" "fantastic" "astonishing" "incredible" "amazing"
You're not going to believe some of these animals!
All across the world there are amazing creatures. Some are stunningly beautiful; some are incredibly scary and some are impressively weird.
The creatures in this book (#3 in a series of 5) have been selected because of their unique behavior, unusual characteristics, and/or the way they look — which some folks might describe as funny, strange, or weird.
However you characterize these animals, you have to admit that they are interesting. And that is precisely the reason this book exists:
1. to show kids something they've never seen before (adults, too!)
2. to give kids some information that is fresh, new and interesting
3. to spark curiosity in children and adults that will be inspiration to learn more about these "weird" animals and the other creatures that share our planet.
Just some of the 34 different animals you will find in this book (Volume 3 of a 5 book series from best-selling author Darwin Adams) include:
Atelopus Frog – Axolotl – Blue-footed Booby – Blue-tongued Skink – Cyclocosmia Spider – Echidna – Fangtooth – Gharial – Hatchetfish – Horseshoe bat – Maned Wolf – Naked Mole Rat – Raccoon Dog – Sea Pig – Three-Wattled Bellbird – Vampire Squid – Yoda Bat
Watch your child's imagination take off as they explore this artfully designed book that opens the wonderful world of wacky, wild and weird animals … for each animal there is an up-close-and-personal photograph plus a simple block of text that will peak curiosity and make learning fun for children and adults alike.
Scroll up and Buy this book now – your child will love going back to it again and again.
The full series includes:
Weird Animals Book 1 – INCREDIBLE

Weird Animals Book 2 – STRANGE

Weird Animals Book 3 – FANTASTIC

Weird Animals Book 4 – AMAZING

Weird Animals Book 5 – UNUSUAL

PLUS: Weird Birds – Funny Photos and Fun Facts About Some Unusual Feathered Friends
ABOUT DARWIN ADAMS
Even though he has traveled extensively and is well educated, adventurer Darwin Adams can still see the world through a child's eyes. With the ability to direct his insatiable curiosity into focused writing, he is the ideal person to present the natural world he loves to young and old alike. Adams is currently traveling the world on his sailboat "Finch".
Other Books by Amazon Kindle Best-Selling Author Darwin Adams Include:
"Alpha Animals" and "Toxic"
You will find Darwin Adams books listed in various categories including Animals, Science, Nature & How It Works, Zoology, Children's eBooks, Children's Books, Science Studies, Marine Life, Mammals, Birds, Reptiles, Snakes, Amphibians, Biology, Education & Reference
Scroll up and Buy "Weird Animals" now – your child will love going back to it again and again.