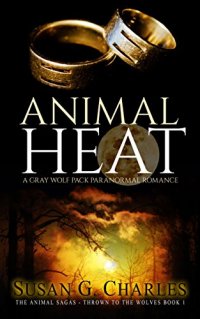 Free on 10th Jun 18



or borrow free on Kindle Unlimited.
No reviews yet.
Long ago, an ancient and powerful faction of shape shifters ruled and roamed the earth. Through systematic elimination, over the course of only a few generations, there are now only two left. Two sisters. So how did this happen? And so quickly?
Cats and dogs usually don't mix. So what happens when a werewolf and a werecougar become mates, brought together by fate? Lots of excitement you can be sure :)
READER REVIEWS:
"For those who enjoy the paranormal, Animal Heat, will be an entertaining read."
"A PLEASANT SURPRISE!"
"I read the book in no time and found it interesting, entertaining and left me with the feeling of wanting more."
"Interesting story about werefolk, specifically werewolves and were mountain lions."
"This is an engaging short story that I found enjoyable."
"It was part mystery, part thriller, part romance and lots of heat."
"This is my first paranormal romance and I really enjoyed it."
"Although this is a very short story, it isn't short on emotions, details, or character development."
Life happens to us all – and sometimes, in just the blink of an eye, it can go from normal and mundane to absolutely awful. And so it goes with this tale. One minute Lynda Seron, a shape shifter herself, was having a regular old ordinary day at home with her sister, Sonya, when something completely unexpected happened and turned both their lives around forever in a way neither of them would have ever guessed possible….
Werewolves & Shifters, sisters… a kidnapping, an unusual business deal and far out expectations to boot. Mix up a group of big cats and big dogs and find out what happens next!
Can a wolf and a cougar find happiness together? Or will this new threat tear them apart?
INSIDE: Paranormal Werewolves & Shifters, werecougars, shapeshifters, romance and action!
Book 1 in The Animal Sagas – Thrown to the Wolves.
This 12,000-word episode is the first installment in The Animal Sagas – Thrown to the Wolves Series, a paranormal romance that follows the complicated relationship between the Seron sisters and the Strongheart werewolf pack.
Notice: This werewolf romance series contains some violence and many shapeshifter love scenes that are fully realized. Recommended for ages eighteen and up.
Book 1 – https://www.amazon.com/Werewolf-Romance-Animal-Paranormal-Thrown-ebook/dp/B00CPTTKR8/
Book 2 – https://www.amazon.com/Werewolf-Romance-Animal-Nature-Paranormal-ebook/dp/B00CUPFN78/
Book 3 – https://www.amazon.com/Werewolf-Romance-Animal-Secrets-Paranormal-ebook/dp/B00DC4H9T6/
Book 4 – https://www.amazon.com/Werewolf-Romance-Animal-Desire-Paranormal-ebook/dp/B00DJ9ZOKU/
Book 5 – In the works!! :)
Order your copy today and start reading the first installment of this exciting werewolf romance series instantly.