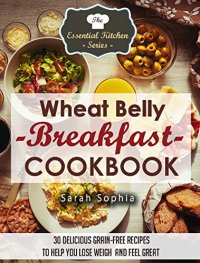 Wheat Belly Breakfast Cookbook
Do you feel like your are slow, sluggish, not getting the health your need?
Your body is telling you something- you're not getting the weight loss, or positive outcome you're looking for.
Well, you're going to love Wheat Belly Breakfast, the easiest way to learn how to cook meals that will help you start your day off on the right foot.
Lose weight, feel better, and even be more productive.
The problem with you diet lies in the ingredients you are putting into your body. Eliminate the ingredients that cause fat storage, slower cognitive(brain) functioning, and you will feel and look 10x better than you have ever before.
Starting your morning with the proper breakfast shapes the rest of your day.
In this book you'll learn:
What is Wheat Belly?

How to Cook without Wheat

The benefits of eliminating Wheat

Breakfast Recipes
And much, much more!
But not only that, you'll also get the easiest way to make this lifestyle a habit.
So, stop starting your morning wrong with donuts and bagels and get the best book available on eliminating it from your diet.
You're going to love it, and you'll never feel better.
Grab your copy of Wheat Belly Breakfast Cookbook by clicking the buy now button.
P.S Don't forget to grab your awesome free gift inside the book, just our way of saying "thanks for buying"
A Book From The Essential Kitchen Series – Check Us Out On Facebook