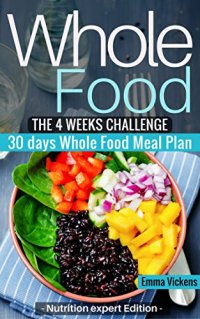 Free on 27th Oct 18



or borrow free on Kindle Unlimited.
No reviews yet.
Also Available as:
Print Edition

Start Eating Clean , Lose Weight and Get more Energized with MY 4 Weeks Whole Food Diet Challenge!
From Breakfast to Dinner Including a little snack during the day, this book will provide you recipes 4 times a day for the next 28 days! And "YES" you will still lose weight and be more energized than EVER
The Whole Food Diet is not complicated, it just teaches you and your body that craving for food won't be part of your life anymore. On the contrary to many other types of diets that makes you consume low-fat nutriments filled with processed carbohydrates, the whole food diet takes you back in time when cavemen used to eat healthier than us nowadays. Our body needs all types of nutriments, vegetable, meat, fruits but all "Natural" which is the key to a healthy body, mind and heart.
Low-fat processed food will only push your craving at its most as they won't last in your metabolism. Processed ingredients and food aren't made to last in your body, neither bring you the essential vitamins, proteins and healthy fats your body needs.
One of my client wrote me an e-mail recently saying:
"Thank you so much Emma, you Challenge changed my life for the better. I lost 12 pounds during the 4 weeks challenge but the best is that I feel much lighter and mentally rested! Thanks again! Jade. C."
The Whole Food Diet is the right way to bring all necessary ingredients, energies and nutriments to your system in a way that you won't feel the need to eat between meals.
Not only you will be healthier but you will also lose weight.
Eating correctly and healthy with Whole Foods will make you experience many changes such as an increased energy level, a better mental focus as well as a deeper sleep. "Why didn't you start earlier?" you might think… because the industry will lose tons of money if everybody would start living healthier, that is why you should give it a try.
Why 28 Days challenge?
The results won't appear overnight, your body needs about 20 days to experience some great changes, weight loss and all the benefits you will read in this book. Therefore, why not trying it for four full weeks and see how it goes? 28 Days is the perfect timing to determine if this diet can become a habit for a healthier life. You do not risk anything in trying it (except feeling better) and so, give it a try!
Here are a few examples of recipes you will find in this book !
Day 1
Breakfast: Omelet with Goat Cheese and Herbs
Ingredients:
1. 3 beaten eggs2. 1 tablespoon chopped parsley leaves3. Kosher salt and pepper to taste4. 1 tablespoon unsalted butter5. 2 ounces' fresh goat cheese
Method:
1. Whisk together the eggs, parsley leaves, salt and pepper in a bowl.2. Melt the butter in a pan, and add the eggs. Cook for 2-5mins3. Crumble the goat cheese on the egg, and fold it in half. Cook till the cheese melts.
Day 16
Dinner: Braised Chicken and Spring Vegetables
Ingredients:
1. 1 tablespoon olive oil2. 8 small bone-in chicken thighs3. kosher salt and black pepper4. 1 cup low-sodium chicken broth5. 12 medium radishes6. 3/4pound carrots cut into sticks7. 1 teaspoon sugar8. 2 tablespoons chopped freshchives
Method:
1. Season the chicken with salt and pepper. Heat a pan with oil, and cook the chicken for 7mins each side2. Remove the fat, and add the broth. Put in the radishes, carrots, and sugar3. Put the chicken on top of the veggies and cook for 15-20 mins. Sprinkle fresh chives on it.
Now, scroll up and click "Buy", I guarantee you, your life will change!