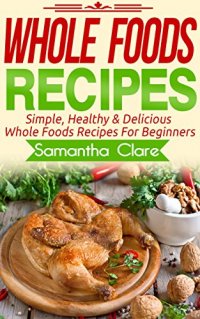 Free on 3rd - 5th Apr 16



or borrow free on Kindle Unlimited.
No reviews yet.
70+ Whole Foods Recipes
BONUS Recipes Inside
This book is about finding ways to live a healthier lifestyle by consuming real food – the kind that is rich, whole and unprocessed. You may find it intimidating to start an altogether new lifestyle, but don't worry. This book is chockfull of healthy, simple, and delicious whole foods recipes for beginners.
It will provide you a simplified list of Do's and Don'ts so you can maximize the results that this diet can offer you. It's pretty easy really; just abide by the Whole Foods "golden rule" and that is "if you cannot buy it fresh, go frozen."
This particular lifestyle gives importance to the food's nutritional value. It is a low-carb, high protein, low-sugar way of living. If you control your portions, there is a good chance that a considerable amount of weight loss will happen in a matter of weeks.
What's even better is that you don't have to completely shun your friends and family's choice of food. You can still eat at a nice restaurant when you want to spend quality time with your family. However, buying and preparing meals on your own is highly recommended. This will ensure that what you put on your table will complement your healthy lifestyle.
Are you ready to reset your old unhealthy self with a healthy Whole Foods set-up? Go and start now before it's too late. This is your chance to see a whole new you through the help of Whole Foods!
Here is just a few of the amazing recipes inside this book:
Grilled Asparagus With Tofu OmeletCinnamon Apple Pie PancakeSalmon Scrambled Eggs With Sour Cream DipAndale Guacamole Mexican Veggie FajitasChicken Whole-Wheat Fajitas With Fresh SalsaKiwi And Oat Chocolate Chip CookiesMaca-Brazil Nut And Cacao FrostFruity Spinach Ginger SmoothieChicken Soup With Curry And SquashParmesan-Garlic Fettuccine AlfredoCranberry Salad In Watercress, Fennel With Balsamic DressingHomemade Mashed Potatoes With Roasted GarlicBONUS RECIPES from "DASH Diet: DASH Diet Recipes – Simple, Healthy & Delicious DASH Diet Recipes For Beginnres"And much, much more…
Download Your Copy Right Now!
Tags: whole food, whole foods, whole foods recipes, whole food diet, recipes, whole food diet plan, whole foods cookbook, weight loss, healthy lifestyle