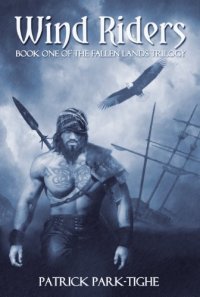 Free on 22nd - 26th Jun 16



or borrow free on Kindle Unlimited.
No reviews yet.
Also Available as:
Print Edition

Young Cat Calhoun's carefully sheltered life takes an extraordinary turn after a fateful—and near fatal—encounter with a beautiful woman and murderous giant. Forced to leave his uncle and their modest farm behind, naive Cat finds himself thrown into a new world of pirates, politics and prophecies. Mentored by the infamous Captain Dante D'Arc aboard The Chimera, he lives and learns with a special breed of men far removed from the thieving profiteers of song and legend. Instead, he finds himself fighting alongside selfless men willing to give their lives in ending a threat against the Fallen Lands fragile peace.
For the bitter giant, being an outlaw and outsider means taking all that life has to offer by cunning and force. Even when he finds the most meager hope and happiness, destiny intervenes and the haunted man known simply as Bear finds himself treading down ever darker roads. From paid enforcer, to arena champion, to desperate exile—the giant, driven by revenge, draws inevitably closer to a grim and bloody destiny.
Both men travel wildly separate paths but neither can escape the unseen forces intertwining their lives. Days pass, men die and kingdoms fall but for these two strangers, the collision of their fates could mean redemption or ruin for an unsuspecting world.