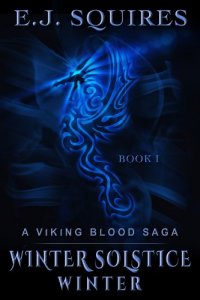 Free on 23rd Sep 18



or borrow free on Kindle Unlimited.
No reviews yet.
What if your entire life was based on a lie—a lie to conceal who you really were, and a lie to protect another destined to save humanity? In a land where shape-shifters and dangerous forest creatures roam free, Ailia and Lucia discover that they are bound to each other in ways they had never imagined, and nothing can prepare them for the ominous journey that lies ahead.
It's not easy being a seventeen-year-old adopted peasant girl in the Viking-inhabited Northlandic Kingdom, especially when you have terrifying mare dreams of an evil Empress named Eiess, and when your friends oust you because they think you are cursed. But Ailia's on the verge of discovering that she hasn't even seen the tip of the iceberg that sleeps below…
On Winter Solstice Ailia visits her favorite place to ponder: a large cliff overlooking her hometown. On her way home, Eiess and an army of Vikings capture her before attacking the Northlandic Kingdom. After usurping the Northlandic Throne, Eiess immediately suspends the seasons on the darkest and coldest day of the year and begins her preparations for the prophesied battle to end all battles.
Princess Lucia, sole heir to the Nothlandic Throne, is taken prisoner by Eiess and is thrown into the castle's tower. For months, Lucia wastes away, never knowing when this nightmare of beatings, starvation and bitter cold will end. But when she miraculously escapes, she learns that she has a twin sister she must find before Eiess completely destroys the Northlandic Kingdom.
Months later, Ailia wakes up in a glacier cave with no memory of how she ended up there. On her way home, a handsome, yet mysterious young man named Soren rescues her from wolves and a dangerous shape-shifter. Ailia is immediately drawn to Soren, thinking she knows him from somewhere, maybe from her dreams of another life? He reveals he is a Sentinor sent by the gods to defeat Eiess and is waiting to be reunited with his soul mate, Lucia, so they together can defeat the Empress.
As Eiess continues to amass her forces, Ailia, Lucia and Soren are about to discover that their destinies are intertwined behind a veil of dark secrets and lies. If they are to take back the Northlandic Throne, they must work together and form an alliance.
But their mission to overthrow the Empress is stalled when the secrets and lies surface. And when a strong love develops between two, jealousy and duplicity arise between them, causing one of them to betray the others – a betrayal which puts their lives and the lives of humanity in grave danger.