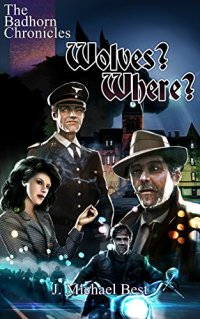 Free on 21st - 23rd Mar 15



or borrow free on Kindle Unlimited.
No reviews yet.
"Delightfully Gritty"
Has a good horror movie feel to it. Solid writing with a twist of humor.
Featuring hardboiled PIs, dames, bikers, bourbon, government coverups, shady smoking men, bourbon, secret bayou cults, Nazis, werewolves, Nazi werewolves, and Nazi werewolves drinking bourbon, this book's got everything a good read should have. Described "like a gritty Sam Spade dropped into a really good X-Files episode" and "urban fantasy done right", The Badhorn Chronicles are the weird stories of a weird town in a weird genre.
Detective Raymond Montgomery has got his coffee, his bourbon, and a stack of 'cakes. He's all set to enjoy his easy day off. That is, until she walks in. Reporter Issy Gardener just wants a retrospective of some of the detective's more…"interesting" cases.
Badhorn is an "interesting" place full of "interesting" people, and Montgomery's had a front row seat to some of the most "interesting" of all them, so how come it's not until he starts talking about the resident biker gang that Ms. Gardener gets "interested"?
Once a crack commando unit, Sgt. Ronnie Graham and his boys were subject to some of the worst genetic experiments Nazi crackpot Dr. Wolvhämer could think of. Escaping with their lives and little more, they returned home, reformed as outlaw bikers, and spent the last 50+ years tracking down the man who did this to them. And guess where they found him? Yep – right here in Badhorn.
This novel takes you right back into the Badhorn universe, where noir, horror, a bit of horror noir, a touch of weird fiction, some old school hardboiled detective action, a dash of urban fantasy, and even a little comedy all collide for one weird adventure. Download a copy today because you'll love it!
Scroll up and grab a copy now!