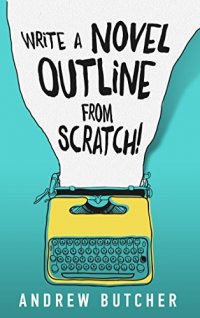 Free on 11th - 15th Apr 17



or borrow free on Kindle Unlimited.
No reviews yet.
Do you have a story idea inside you that you're dying to write, but you're not sure where to start?
Are you already writing a novel, but the story has become too complicated and you don't know how to make progress?
Maybe you already have your own novel outlining process, but you simply want to improve it?
Or … perhaps you don't have a story idea yet, but you just love the thought of writing a novel.
Write a Novel Outline from Scratch! is an indispensable tool for storytellers of all levels and backgrounds. In this step-by-step guide, author Andrew Butcher shows you how to come up with a story idea and create a complete novel outline, including detailed character bios, location sheets, and loads of bonus tips that will transform your writing process into one that works!
It doesn't matter if you're a beginner or experienced writer. It only matters that you want to outline an intricate story that will wow your readers. On top of that, learning to effectively outline and structure your novel means that when it comes to actually writing it, you'll write it faster, you'll write it better, it will need less revision, and–best of all–you'll get it published sooner!
In this book, you'll learn how to:
oGenerate story ideas and expand them into a complete book outline from SCRATCH!
oWeave plot lines together so intricately it will blow your readers' minds
oCreate vivid story locations that will transport your readers into your story world
oCreate fully developed characters your readers will love (or love to hate!)
oImplement BONUS outlining tips that will forever change your writing process
oGain confidence in your writing by effectively outlining your story first
The book includes links to loads of downloadable files to supplement your learning, and plenty of real-life examples from Andrew's first novel. There's even a FREE Scrivener template for Windows available for download, so if you're a Scrivener user, you can follow the exact template Andrew uses for outlining his stories. But don't worry, if you're not a Scrivener user, you will still benefit from reading this book!
By the end of it all, you'll feel ready to write your book. So what are you waiting for? Dive in and start outlining your novel today!