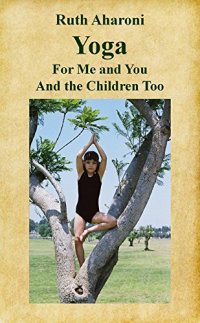 Free on 23rd - 25th Nov 18



or borrow free on Kindle Unlimited.
No reviews yet.
Yoga for Me and You and the Children Too

by Ruth Aharoni

This book is designed especially for kids, but it is intended for the whole family, for all ages; and for teachers too.
The exercises that are presented in the book are classical yoga postures, suitable for children, and children demonstrate them. Each posture has a name from the kid's everyday life, and is also accompanied by a short rhyme for the little kids. However, the book is suitable for anyone who is willing to practice yoga. Besides the demos, you will find detailed instructions on how to perform the exercises, and what are their benefits, so it is intended for teachers as well.
This book can serve as an excellent teaching tool, and is well organized and divided into five sections. The first three sections deal with the yoga postures: The first section is for beginners, children and adults as well. The second section is for intermediate practitioners; and the third one is for more advanced practitioners. The fourth part describes different relaxation poses; and the fifth section is intended for the grown-ups – parents, kindergarten and school teachers, and yoga teachers as well.
Ruth Aharoni, Master of Yoga and a yoga teacher for many years, presents yoga not just as a method to improve physical health and gain inner peace in the modern hectic world; she also reveals to you the creative side of yoga and shows you how it can improve your family relations. Thus, beside the physical and mental benefits that the children get, the adults – parents and teachers – will draw pleasure from instructing and observing the little yogis; and all of you will enjoy the joint activity.