The Caterham & District Independent July edition has come out, containing our ebook review column. This month we're on p4 again.
Five ebooks and five authors are featured, the pick of the last few months:
"Confection Connection" by Liz Lund – A romance and mystery with a nice degree of humor.
"A Healing Hug for Alzheimers Caregivers" by Elizabeth Postle R.N. – non-fiction guide to caring for Alzheimers sufferers and help for caregivers.
"Made in Yorkshire:1964" by James Farner – The start of the "Made in Yorkshire" series, a series like C.P.Snow's "Corridors of Power"
"A Humourless Death" by J.R.Bourneville – A short horror story
"Seriously Mum, what's an Alpaca?" by Alan Parks – The entertaining memoirs of a British couple who took up alpaca farming in Spain.
Sadly this is the last column under our current agreement, and we don't know if we can make a new one. We hope you've enjoyed it, and that it has helped readers find a few new books.
For us? 6 months, 30 books, 132,000 printed newspapers, and an estimated 270,000 reads. It has been well worth the effort, and we would like to thank the Caterham and District Independent for their help supporting indie authors.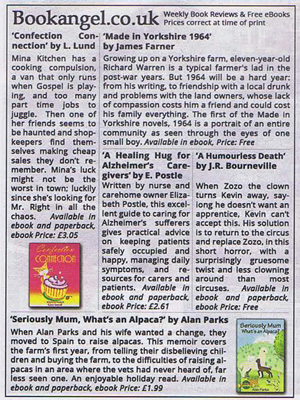 More about the feature and all columns: Click here
Discussion
New to the site?
Leave a comment below or view the chat on our forum
here
:
You are commenting as a Guest:
Login
Or
Register
*Your email will not be displayed on the site. All message are held for moderation.