Listing on BookAngel:
---
Bound by a Dragon (The Dragon Archives Book 1)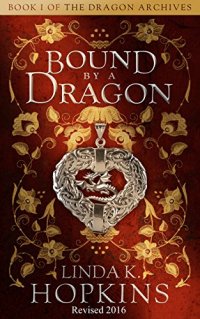 Last Free Dates: 18th Sep 18 to 22nd Sep 18
Free Today!
Read More

...Fans of the genre will undoubtedly enjoy it, while it is probably hit and miss for others....
Keira is the elder daughter of a local carver, dutifully spending her days helping to sell wares while trying to avoid the eye of the local reeve's son, Edmund. Her life is turned upside down by the appearance of a dragon in the nearby hills and the arrival of a new noble, Aaron Drake, whose eye she has caught. Despite her growing feelings for him, her hand in marriage has been promised to Edmund, and soon she must choose what life, and with whom she should lead it. The matter comes to a head when Edmund and his friends come across Keira on her own and he decides to not wait until a wedding night to make her, his. Especially, when her rescuer is the dragon…
Bound by a Dragon is an interesting romance set in what would be the Dark Ages, with a splash of fantasy alongside. The details about the dragons, what they are and how they interact with the world are different and well-thought through. The characters are a little formulaic well, they fit neatly into a romance HEA story, so it's fairly expected, but they are well-written and through the course of the story, they play their roles as you would expect. Some of their actions are a little forced, and there is far less conflict between the leads as might have been expected given the situation.
The plot is fairly straightfoward and continues to throw obstacles in the way of our leads, as mentioned a few of the actions taken are a little off and happen more to make the next part of the story happen. There are also a few threads introduced, which are resolved out of sight and you wonder why they were mentioned at all as they don't have any real effect on the story and are likely set up for future stories.
All in all, its a fairly standard Fantasy romance, raised slightly by the details on the dragons. Fans of the genre will undoubtedly enjoy it, while it is probably hit and miss for others.
Rating:
3
Reviewed by
Reviewed on:
2017-10-05
Review Policy: No compensation is received for reviews. View our Review Policy here.