Listing on BookAngel:
---
Claiming Victory: A Romantic Comedy (The Dartmouth Diaries Book 1)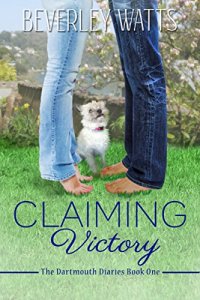 Last Free Dates: 8th Nov 18 to 12th Nov 18
Read More

...For readers of light romance or comedy, this would be a great afternoon read. ...
Victory Britannia Shackleford (her retired Admiral father idolised Nelson), is a perfectly normal thirty-something in Dartford who has just found out about her father's relationship – and isn't pleased. So her father hatches a plan to marry her off, despite her wishes. Of course, only the most famous actor in the world will do for his little girl. Getting the target here is easy: with a historic house ideal for filming the latest movie, wangling it as a location is simple. Unfortunately any relationship they have will progress over the hatred of his co-star, ex-girlfriends, Tory's own insecurities, a disastrous first meeting and the envious hatred of most of the female population…and the press.
This is a light romantic comedy of utter disasters, at times bordering on farce. The actions all follow, the reasoning is sound, and the results make you cringe and laugh at the same time. The author's style is light and engaging, and her characters have clear and very distinct voices (in Tory's case quite often exasperation). Tory is intelligent, likeable, and an interesting mix of vulnerable and paranoid – and given her father's constant conniving, who wouldn't be? The writing speaks of long familiarity with the area, and the scenes and locations are vividly described. In the author's notes, the author even apologises for not working the steam railway in. I can't fault the layout or presentation.
If you enjoyed Beverly Watt's first book, An Officer and a Gentleman Wanted (originally titled Worse Things Happen at Sea) you will probably love this book, although Claiming Victory is a more conventional romance. For readers of light romance or comedy, this would be a great afternoon. Locals in Dartford might want to buy it simply to location-spot.
Rating:
4
Reviewed by
Reviewed on:
2015-02-14
Review Policy: No compensation is received for reviews. View our Review Policy here.