Listing on BookAngel:
---
Dying Takes It Out of You (THE MADONNA DIARIES Book 1)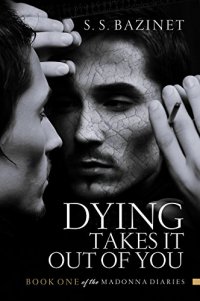 Last Free Dates: 26th Jul 18 to 30th Jul 18
Read More

...Worth a read, especially for fans of the genre looking for something slightly more unusual....
In a world where a virus has spread turning people into mindless, blood-driven creatures, Dory is in trouble. An artist who rebelled against his family and self despises, he was trying to kill himself when he was attacked, bitten and infected. Picked up by his older brother Milton, a doctor who is looking for a cure, Dory is taken back to Milton's apartment where he is shackled to the bed to prevent him from attacking anyone, and Milton keeps watch over him. Slipping in and out of consciousness, he is aware of Milton's efforts to save him by blood transfusion, but dreams of someone called Thomas who saved him from his attackers. Together the brothers face Dory's condition as it forces them to re-evaluate their family, their time growing up and the different paths they took as well as the secrets they both hold.
"Dying takes it out of you" is a short story set in the near future where a virus has been released, although it is not the ravaged wastelands of many dystopian stories. the piece takes place mainly in the one location and is more about the troubled relationship between the two brothers than an outright zombie tale. The story is well written and descriptive, and the differing views and lives of the brothers are well fleshed out, both of what they were and what they are now. The pace of the novel fits well with its short fast chapter structure, as it describes the deterioration of Dory and Milton's efforts to save him.
My biggest gripe is about the secrets they hold, which actually seem out of place, even though it binds both brother's together. This is mainly because it doesn't really fit the background of the world. It may become more apparent in later books what it is meant to be and it doesn't stop me being curious about what happens next.
Overall, despite the petty gripe above, it is still worth a read, especially for fans of the genre looking for something slightly more unusual.
Rating:
4
Reviewed by
Reviewed on:
2018-02-01
Review Policy: No compensation is received for reviews. View our Review Policy here.