Listing on BookAngel:
---
First Impressions (A Grace deHaviland Bounty Hunter Story)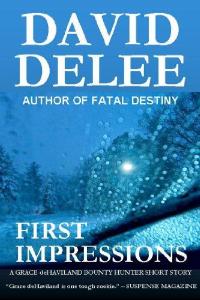 Last Free Dates: 25th Mar 21 to 27th Mar 21
Free Today!
Read More

...If you like crime or urban thrillers read this short, it's worth it....
Grace deHavilland is a bounty hunter, pursuing a small-time fugitive she has tracked to a rural town. From there everything goes less than smoothly, starting with the rural sherrif insisting on accompanying her into the field.
Slick, entertaining, a female lead who is hard as nails with an intelligent and well-drawn supporting cast? This short story is a treat.
If there were grammar or spelling issues, I did not notice. Likewise the formatting is spot-on, and I am not going to knock a short story down for not having a Table of Contents. If I saw this on a bookshop's shelves, it would belong.
Written in first person, from Grace's point of view, the main character has a distinctive voice which comes across clearly. It is well-written, and the plot flows smoothly and naturally.
It would actually have been one of my very few five stars, but for one issue: 25% of the book is a sample chapter for the following novel, ending with a buy link.
As it is four stars, and a recommend from me: If you like crime or urban thrillers read this short, it's worth it.
Rating:
4
Reviewed by
Reviewed on:
2013-09-01
Review Policy: No compensation is received for reviews. View our Review Policy here.