Listing on BookAngel:
---
In The Dark and The Deep (Steve Vernon's Sea Tales)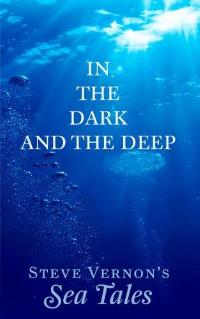 Last Free Dates: 11th Jan 18 to 15th Jan 18
Free Today!
Read More

......short, haunting, and mysterious. A good old-school ghost story... ...
William McTavish is new to the sea, volunteering for the Royal Canadian Navy during the Second World War. Developing a friendship with Big Jimmy Noonan, an experience seaman, when a sailor is washed overboard he learns there is more to the sea than he ever knew…
This is an old-school ghost story, narrated by an observer who can do no more than retell the events he was on the fringes of. While he knows on the surface what he has seen, even if he can barely accept it, accepting it as truth simply raises more questions. The reader, like William McTavish, is left with a feeling of a longer tale and darker background untold and now always out of reach.
It is short, haunting, and mysterious. Big Jimmy and William are the only two really fleshed out characters, but you get a good sense of both, or think you do. It's hauntingly written and hard to put down until the end, when you realise that by answering some questions, the author has left more.
There are no formatting or spelling errors that I spotted, I enjoyed it thoroughly, and I wish I had the funds for more of his work.
I think I prefered the other one of his works I read, Not Just Any Old Ghost Story, because it was so very different to expectations, but this is a good old-school story that you can easily imagine sailors swapping at night in a tavern on the docks, when a storm batters the hatches and rain falls down the glass…
Dear Author, thank you for an enjoyable read.
Rating:
4
Reviewed by
Reviewed on:
2017-07-01
Review Policy: No compensation is received for reviews. View our Review Policy here.