Listing on BookAngel:
---
Murder in Cherry Hills (A Cozy Cat Caper Mystery Book 1)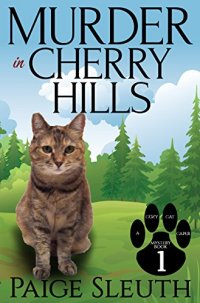 Last Free Dates: 17th Oct 21 to 19th Oct 21
Free Today!
Read More

...A short and sweet intro to the cozy mysteries in Cherry Hills....
Having move back to Cherry Hills after vowing to leave it behind, the last thing Katherine Harper is expecting is to find her neighbour's cat on her doorstep, shortly followed by finding her dead neighbour. With an old friend of hers from her childhood now leading the investigation and having adopted Matty, her deceased neighbour's cat, Kat decides that she will try to help and find out who was responsible for such an act. So while trying to get used to now sharing her apartment, Kat starts investigating for better or worse.
This is the first Cherry Hills story introducing Kat and Matty as well as the location. It is a fairly short read, I breezed through it in 30 minutes, but enjoyed each moment of it. The writing is cozy and undemanding, the plot is fairly kept simple but with enough for there to be some mystery about what occurred. The characters are distinct and slightly larger than life, but it helps to bring them to life quickly. Matty, of course, comes across as any and every cat should be written. I didn't notice any grammar or spelling errors that leapt out, but then the story kept me hooked enough that I would quite happily ignore them. The mystery is short and simple with enough hints that you can look back and see how it fits together.
The only real issue I had was that it was short and undemanding, when I was expecting something slightly longer. But as a taster of the author's work if the other stories are like this, they certainly fit nicely into the cozy mystery category.
The book is good for a couple of coffee breaks, simple, sweet and happily setting the tone for the following stories.
Rating:
4
Reviewed by
Reviewed on:
2018-10-11
Review Policy: No compensation is received for reviews. View our Review Policy here.