Listing on BookAngel:
---
Murder Mountain: An Eli Quinn Short Mystery / Prequel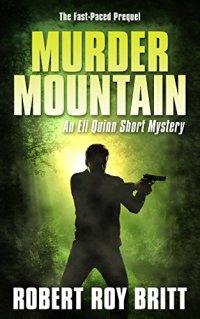 Last Free Dates: 4th Dec 18 to 8th Dec 18
Free Today!
Read More

...This is a good tense thriller, and it kept me reading to the end....
Eli Quinn and his ex-police dog Solo are tracking a criminal through the wild country of Murder Mountain. He's not after justice, or bringing someone in. He's out to kill the man who killed his wife.
The story's chapters alternate between the present and the cat-and-mouse game on the mountainside and the past with Eli following the trail of evidence that eventually brings him to the mountain. The pace is fast, and the plot holds together well, with characters mentioned in the present falling into place as the flashbacks progress.
There's a strong supporting cast, with several characters set up to be series regulars, and Samantha Marcos coming across as a standout even in her brief appearance. One thing I really enjoyed was the way Eli slowly comes out of his grief and becomes more able to function as the investigation goes on and he finds he might be able to do something.
I also liked the fact the author admitted upfront he'd played with the geography slightly – since he pointed it out I don't have to and it won't take readers out of the story.
This is a good tense thriller, a grief-stricken P.I. hunting a killer with no obvious motive, and it kept me reading to the end. If you are thinking about reading the Eli Quinn series, I'd say this is a good place to start, especially if you can pick it up free. It sets the scene, introduces the characters, and proves the author can keep you on the edge of your seat!
Rating:
4
Reviewed by
Reviewed on:
2017-08-23
Review Policy: No compensation is received for reviews. View our Review Policy here.