Listing on BookAngel:
---
My Dinosaur is Scared of Vegetables (Fun Rhyming Children's Books)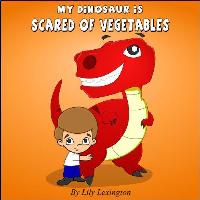 Last Free Dates: 27th Aug 17 to 31st Aug 17
Free Today!
Read More

...Absolutely ideal for children, and I'll be recommending it to a few parents I know....
Ok, I'm not in the target audience so I let my inner seven-year-old out for review purposes.
I liked this.  No it is not perfect, yes there are spelling errors (vegie instead of veggie).  Nonetheless the rhymes work to ear, they read well, and they handle a row that every family must have had at least once: getting children to eat their greens.
The only complaint I have is that at over £3, it is rather pricy for a very short book. The price is probably due to the illustrations throughout, which bump up the file size and download fee. The illustrations are good quality in full colour, and really do enhance the story. This does mean that to get the best from this book you will need an e-reader with colour, although the pictures are still clear on e-ink.
This could be read by children on their own, or with a parent, or even read to them. It is absolutely ideal for children and I'll be recommending it to a few parents I know.
Rating:
4
Reviewed by
Reviewed on:
2014-09-02
Review Policy: No compensation is received for reviews. View our Review Policy here.