Listing on BookAngel:
---
Prunes for Breakfast: One Man's War Based on a True Story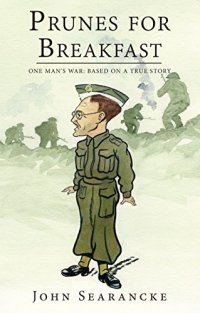 Last Free on: 26th Jan 20
Free Today!
Read More

...A touching and excellent memoir that doesn't sugarcoat the time period. Good for the casual reader, but history students should definitely pick this up as a source with first-hand content....
When John Searancke's father died, he left behind his letters from the second world war. Rather than discard them, the author assembled them into a framework and wrote a semi-biographical novel round it covering the period of the second world war, his service and D-Day. Sadly his mother's half of the correspondence had been destroyed some years earlier, but enough existed to create a timeline with aid of other family members.
This is the story of Eddie Searancke's war, from his call-up shortly after his marriage, to D-Day, his brief stint as a Prisoner of War, and then his return to England. The events following Dunkirk and the slow build up to D-day over four years are covered in detail from one soldier's point of view. Any action comes, understandably towards the end, when the invasion of mainland Europe is launched. His father takes part in the second wave, his skills put to the test in mine clearance and combat,until he ends up as one of the last P.O.W.s taken shortly before the end of the war.
Written in first person, the novel segments are broken up by the insertion of the original letters, which gives them a context they lack if read alone. The war sections are not for the faint of heart, and some of the described scenes are disturbing if not graphic. Don't expect long discussions of politics, this is simply the story of a British soldier in the second world war, and how he and his family "made do and mended". The formatting and presentation are professional, with good editing throughout.
As a novel, this is mainly slice of life: training and managing family matters while on active duty for an army defending the UK from enemies across the channel. Don't expect great dramatics, just the occasional absurdities, some touching moments and the constant stress on a separated family that must have been shared by many. There are some truly disturbing pieces towards the end, made worse by both the fact it happened and the way the author and his father's letters are utterly matter-of-fact about it.
As a historical record, containing letters from a first hand source, this is valuable to any students of the time and will only become more so as time passes. The author has done his best to fill in gaps in the timeline, making it a useful resource. It is also surprisingly readable.
Students of history should pick this up as a source with first-hand content. It may also be of interest to those looking for a unique view of the second world war, what life was like in Britain at the time, or real-life drama in the war years. I can't say I enjoyed some parts of this book, but I would definitely say it held my interest, and if it is unlikely I would read it again, I'm glad I read it once.
A touching and excellent memoir that doesn't sugarcoat the time period.
Rating:
4
Reviewed by
Reviewed on:
2015-12-14
Review Policy: No compensation is received for reviews. View our Review Policy here.