Listing on BookAngel:
---
Shotgun Grandma: Volume 1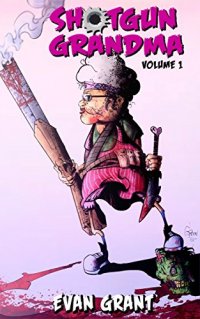 Last Free Dates: 9th Oct 18 to 13th Oct 18
Free Today!
Read More

...a granny against zombie story - Fans of zombie horror should check this out. ...
Margaret is a retired grandmother with a shotgun in her cupboard, which comes in handy when zombies overrun her neighbourhood. Can she escape with her granddaughter and get her home for tea?
While Margaret and her granddaughter Emma are fleshed out few of the other characters are. Only one of Margaret's neighbours gets a name, and there's no mention she recognises any of the people being killed. A few moments of regret or stealing herself to abandon someone might have made her more sympathetic. She's not quite a granny in the Militant Millicent mode – the shotgun's in the cupboard not her handbag, and she's not unflappable enough – but she's getting there.
There were a few lines that made it really obvious the author was male, though the character was female: few heterosexual women pay that much attention to other women's breasts (and they know that chest development is not conveniently proportionate to size).
There were also a lot of things familiar about this book: the zombies will be familiar to 'House of the Dead' players, Zombicide players and others. The police officers' names will be familiar to anyone who watches zombie movies, in a nice shout-out or a slap down, I wasn't sure.
The plot varies. Some parts of it make more sense than others, and the humour elements are dropped early despite the cover and title. It ends on To Be Continued, as a someone does something stupid they've been trying to through the whole book.
Overall, it is a standard human against zombie story, but as forty years of films, books and more shows, some formulas don't wear out. Fans of zombie horror – or the Walking Dead series – should check this out, and may find they discover a promising new series.
Rating:
4
Reviewed by
Reviewed on:
2017-08-08
Review Policy: No compensation is received for reviews. View our Review Policy here.