Listing on BookAngel:
---
Star Wanderers: Outworlder (Part I)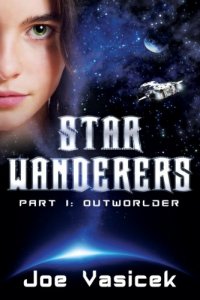 Last Free Dates: 4th Jun 19 to 8th Jun 19
Free Today!
Read More

...Sci-fi romance readers will probably love it as the best of both worlds!...
Jeremiah is a space trader, but a stop at a collpasing station leaves him with something quite unexpected: a wife. Unsure of their relationship, or the circumstances that brought her aboard his one-man ship, he has to find a way to manage when they do not speak the same language.
This is a remarkably good story. Told from Jeremiah's view in third person, his character and voice come through clearly. Noemi is more than just a mystery to solve: she's a person with her own drives, and understandably frightened and frustrated at having no way to communicate them. At the same time, the culture and world around them are developed clearly, though the action never leaves his ship.
The ending is complex: nothing is resolved and the main mystery remains and yet the key decisions have been made and the story ends quite naturally, while the reader can see how it will continue. In fact it does, in the sequel which continues Noemi and Jeremiah's adventures. The author's note is lengthy but the content – the story of how the novelette was published – is likely to hold a reader's interest
There was one sour note for me: the attitude of "men wander, women stay at home and get married once the men decide to", did begin to grate on me, but it is quite possible that is just the main character's culture as the entire story is told from his point of view.
Cover, formatting and spelling are all good: there's nothing to complain about there.
Overall, this isn't just a good sci-fi story, though science fiction fans should give it a look. Romance readers may enjoy it for the tale of two strangers, literally thrown together hashing out a relationship where neither speaks the others' language. Sci-fi romance readers will probably love it as the best of both worlds!
Rating:
4
Reviewed by
Reviewed on:
2016-05-06
Review Policy: No compensation is received for reviews. View our Review Policy here.