Listing on BookAngel:
---
Tales of Metapolis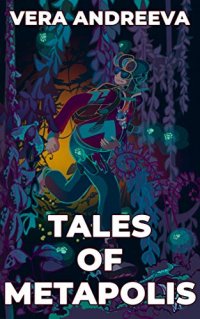 Last Free Dates: 7th Dec 19 to 11th Dec 19
Free Today!
Read More

...a fun series of shorts and an interesting taster...
Four short stories to give a taster of the works of Versa Andreeva and the Metapolis series of books. From a polymorph chasing down a fishman on the run in the mean streets of Flamel, to someone rescuing small animals from poachers, from a young boy rescuing a princess being burned alive on a fiery planet to two young princes finding out one of them has more control over living creatues. Each part adds a little bit more background to the universe that contains them.
Each of the shorts is well written, although with no commonality between them other the worlds around, it can give a brief flavour of the writing without really giving anything away about the main stories. With little time given to each story, the characters necessarily tend to the standard with more emphasis on the situation around them, to it's benefit. The writing is fairly fluid and descriptive, each of the scenes quickly comes and goes while not overstaying their welcome. It's a good way to see if the writing style is something a reader would enjoy.
The only thing I would have liked to see would be perhaps some way to link these to the main story of Metapolis, to find out if it would be something I want to read. It seems as though the last story gives some background to it, but it appears more as background to the events than anything else.
Even without the connections, it is still a fun series of shorts and an interesting taster.
Rating:
4
Reviewed by
Reviewed on:
2019-12-10
Review Policy: No compensation is received for reviews. View our Review Policy here.