Listing on BookAngel:
---
The Dragon Holder (The Forbidden Forest Book 1)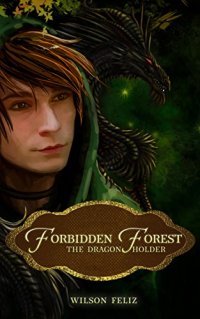 Last Free Dates: 1st Nov 14 to 5th Nov 14
Read More

...It has a few flaws, but is interesting enough to persevere with....
The Dragon Holder is the first Forbidden Forest novel about a land under attack from an evil group.
Anaya is a powerful warrior mage is transporting a valuable artefact when the troop she leads is attacked by the evil Decent Brotherhood. With the assistance of the elf Danche, she manages unwittingly teleports it away. The artefact is found by Liam, a farmer with a warrior's heritage along with his two nieces, the twin mages Hope and Destiny. It turns out that the artefact is a Dragon Egg which bonds with Liam marking him as a Dragon Holder, even though the Dragons are considered creatures of story and legend from long ago. However, the evil Decent Brotherhood becomes of this and seeks to find and either kill him or bring him to their side as they seek to take over the world.
I quite enjoyed this story, it was descriptive, the world was interesting, well though out and there was plenty of action going on as the story progressed. Each of the main characters has their own thoughts and feelings well expressed and you do get a good idea of what they are going through as the story unfolds. However, there are two problems I have with the book. The first is obvious, the Decent Brotherhood. Not just the name, although that always has me in stitches, but they seem incredibly overpowered as a threat to the kingdoms that you wonder why they haven't already taken over. The second is that this book seems to also spend its time in setting up things for the future, which is fine, but does it in a way that doesn't reflect well on the character's intelligence. Yes, adopt the baby ogre for little to no reason why don't you? Don't worry, I'm sure it will turn out well in future books, it always does. On the flip side the supporting cast are actually quite good, with a a fair amount of depth to them, and I'm more interested to see how the general war is going to play out than the actions of one lone guy with a dragon.
There are a few spelling errors and mistakes here and there, but nothing to detract from the overall enjoyment of the book and its an easy enough read to keep an idea of what is happening. Some of the chapter lengths are a little awkward as some of them appear quite short for no real reason. But in general, it is easy to read, although if it ever came with a map, it would be a bonus.
I would recommend the book to anyone looking for a new series of fantasy books to read with some original, and some familiar, ideas contained within and its easy enough for most people to get into if they don't normally read in that genre. It has a few flaws, but is interesting enough to persevere with.
Rating:
3
Reviewed by
Reviewed on:
2014-11-10
Review Policy: No compensation is received for reviews. View our Review Policy here.