Listing on BookAngel:
---
Sweet-Pea's Thief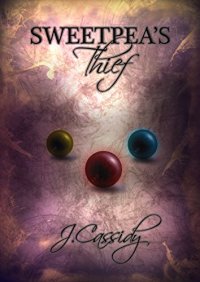 Last Free Dates: 5th May 18 to 7th May 18
Read More

...A thoughtful fantasy with an excellent background and strong characters....
Waking up to find that she is not so much dead, but a soul pushed out of her body, a young girl called called Sweet-Pea finds herself trapped in a world where the currency of choice is the time you have left to live. To make ends meet she learns to harvest time from those who no longer need it, all the while trying to work out how to get her own body back and rejoin her former life with her family. But first she has to work out what has taken over her body and then avoid the attention of the mysterious Tin Master, who has his own interest in Sweet-Pea.
Sweet-Pea's Thief is an excellent fantasy adventure, told in flashback. The framing device is a card game played between the protagonist and someone else, and as the game goes on, more and more of the tale is told as to what is going on. The plot is well thought out, varied, and by the end it is all very neatly tied together. It also pulls no punches on several of the events that happen, with no shortcuts or easy paths through for the characters. The characters are also well defined, and grow through the course of the story, some more than others for reasons that become clear as the plot progresses. The background to the world is well defined and thought out, slowly being revealed as more of the story is told and the basis on which it works becomes increasingly crucial to the story. The grammar and spelling were fine through the book and I didn't notice any obvious mistakes.
My only complaint such as it is, is that the first part is a little slow to get moving, but once it does pick up pace, with a little more explanation, and becomes easier to follow, then it is a riveting read and I was happy to see it through in one go.
Rating:
4
Reviewed by
Reviewed on:
2018-05-14
Review Policy: No compensation is received for reviews. View our Review Policy here.