Listing on BookAngel:
---
The Secret Dead (London Bones Book 1)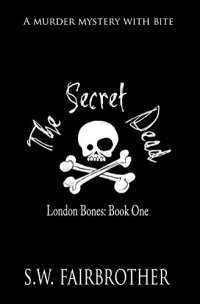 Last Free Dates: 16th Jun 20 to 20th Jun 20
Free Today!
Read More

...A book that everyone should read, for the wonderful story, the differing take on the supernatural and a teasing mystery lasting to the very end....
Vivia Brisk is a hag and knows a lot about death. able to die, visit the world on the other side and return This means that alongside her job helping supernatural creatures who have fallen on hard time in London, she helps the police out now and again. However, when the next case turns out to be her not-so-popular colleague, Malcolm, things get even more bizarre. Especially, when it turns out Malcolm is now a zombie and he has fled with his son. When Malcolm is then captured and will only speak to Vivia, the few words he utters before his mind degenerates makes no sense. When a set of bodies are then found near Malcolm's house, it appears there was a lot more going on than she ever expected. Trying to match up what she knows from being alive, with what she has seen while she was dead, shows that one of London's deadly mysteries is a lot closer to home than she thought.
This is an excellent supernatural mystery with an interesting concept and a wonderful downbeat feel to it, which matches the grimier parts of London it is set in. No fast cars and penthouses here, the book stays true to the locale it is based in. The characters are well-realised with excellent dialogue and interaction, no-one is perfect, their quirks and foibles made clear and kept consistent and they are all believable. The mystery has several twists and turns done in best Christie style and reading back through it you can find the little hints in plain sight that make it up. The interweaving of both the professional and personal lives of the characters blends nicely as the story plays out, with their past and present actions all having an impact on the unfolding drama.
In terms of the background, the take on the supernatural is wonderfully understated, not going for the overblown stereotypes, and keeping it as low rent as the rest of they story. And while the story may have elements of it, it is driven by the same emotions and desires that could power any novel, supernatural or otherwise. Finally, the length of the story seems to fit as the tension ratchets as more and more pieces begin to fit into place and the plot unfolds to its rather fitting conclusion.
This is a book that everyone should look to pick up and read, for the wonderful story, the differing take on the supernatural and a teasing mystery lasting to the very end.
Rating:
5
Reviewed by
Reviewed on:
2015-03-06
Review Policy: No compensation is received for reviews. View our Review Policy here.