Listing on BookAngel:
---
The Seven Wonders of My World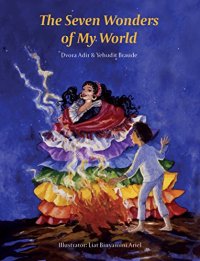 Last Free on: 1st Jan 16
Free Today!
Read More

...Significant formatting issues made it very difficult to read this nicely-illustrated children's book....
This looks like a charming children's book, and may contain a great story. Sadly I was unable to review it..
Unfortunately, there are significant formatting issues. The pages appear to have been scanned from a print book as images, with the text as part of them. This makes it hard to resize text and on Kindle for PC it is extremely hard to read, especially on smaller screens. This preserves the formatting and the colour illustrations, which are extremely high quality, but at the expense of readability. I gave up by chapter 3 due to eyestrain.
I was in two minds about reviewing it, but decided this was something readers would like to be aware of.
Rating:
Unrated
Reviewed by
Reviewed on:
2015-05-13
Review Policy: No compensation is received for reviews. View our Review Policy here.