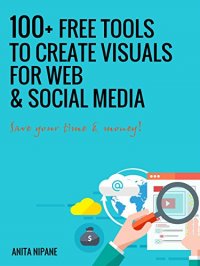 Free on 25th - 27th Dec 20



or borrow free on Kindle Unlimited.
No reviews yet.
Do you need to create images and simple banners for your webpage, blog, and social networks?
The good news is – you don't need to hire a designer or buy expensive software to create visuals for web. You can do it YOURSELF and with FREE tools, thanks to the different resources that are available on the Internet. There are so many easy and quick solutions out there! Actually, even the most highly paid pros take help from the same resources you are going to learn in this book.
After reading this book, you will be able to:
oget royalty free images even for commercial purposes
oedit photos and create web banners with free online editors
opick tasteful color combinations for your brand and web banners
ocreate simple animated gif banners
otake and edit screenshots as well as record tutorial videos from your screen
oremove background from any image (no Photoshop or designer skills needed)
oadd beautiful and free fonts to your computer
ocreate slideshows, presentations, and infographics
o"steal" color codes from any website
ouse other tools that will save your time and improve efficiency
In short, you'll be able to create visuals for your webpage, blog and social networks yourself and with no money spent. This book will be your toolset that you can use as a manual every time you need to find a free online tool to create a visual for web and social networks. Actually, I'm using it like my manual, too and I'm happy to share it with you.