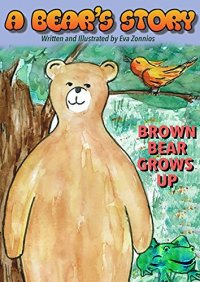 Free on 16th - 18th Nov 18



or borrow free on Kindle Unlimited.
No reviews yet.
A Bear's Story, is a picture book from Eva Zonnios' short stories for children, collection. It is a bedtime story about a young bear who wakes up from hibernation and realises that he is not as little as he was before hibernation. As an early learning story we see how Brown bear realises that he could loose the place that he calls home. He must now grow up and protect his home and friends as the fully grown, Big Brown Bear.
Short Story
As a short story, this book addresses the issues of growing up by giving the child symbols to emulate, even with the understanding that they may still feel a little scared. The picture book version of 'A Bear's Story', helps children realise that they are not alone in being scared and that sometimes they must overcome that fear because other people are relying on them.
The basis of the story is that Big Brown Bear finds himself in the position of having to deal with a situation that is bigger than he has ever faced in his life before. He overcomes his fears through remembering a very important lesson that he learned when he was still very young.
This book is also a 'terrific' bedtime story because of the beautiful images of the baby bear growing up, and images of him with his mother, these are images that the children love. It also gives them a positive vibe to head off to sleep with, which as a parent feels good in assisting the child to have a good night's sleep.
('A Bear's Story', is a part of the Eva Zonnios Children's Collection series)
Although 'A Bear's Story' is a children's story that covers real issues of how children have to come to terms with the need to grow up. The story really dives into the issues of children's self-confidence and how they can do feel more able in confronting situations.
The story of Big Brown Bear also illustrates to the child that they are not little forever.
Picture Book
By being a children's story as well as being delivered as a picture book, it has become something that parents can use to help in teaching their young children about the environment and about having courage.
The other advantage of the picture book style in a story such as this, is that children can enjoy perusing the images alone even when they cannot read the story word-for-word.
I have categorised the book for children 2-8 but really even baby-3-year-olds also enjoy it because of the pictures and the bedtime play associated with the animal sounds.
Children as young as one and a half find this story engaging with the emotive images. They love to hear the story again and again, simply to enjoy the larrikin humour of their protective friend, Big Brown Bear.
Essentially 'A Bear's Story' is an animal story, where children from a young age can be shown that the environment is something that can change and that it depends on what we do to help in keeping a healthy environment for everyone to live in.
This picture book has images that delight. It is told as a kids funny story and with the aspect of family love. It truly is an enjoyable book that brings pleasure to both the reader and the child who is being read to.
Interview with Children's Book Author:
The Write Site;
Hello Eva could you tell me who your main audience is for this book – and why you chose that market in this instance?
Eva Zonnios (Children's Short Story Series)
Yes, It is generally aimed at the young children market. By explaining the issues of environment through a story with an animal it helps them to pay attention and see how the animals that they themselves love, need to have a natural environment in order to survive and enjoy their lives.
The Write Site:
Why did you incorporate the topic of children growing up in the story?
Eva Zonnios:
When a child is growing up the environment that the child grows i