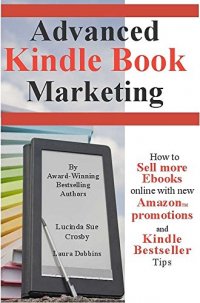 Free on 27th Dec 16



or borrow free on Kindle Unlimited.
No reviews yet.
Advanced Kindle Book Marketing Tools – 2014 and 2015 promo tips
Learn how to use new Amazon book promotion opportunities
If you want to boost book sales then you need to understand the different Amazon book promotion forums available to self-published authors, especially writers who use Kindle Direct Publishing and Createspace to publish and market books. Included in this book are Kindle Bestseller tips, information about Amazon promotion forums, links to places that will help you publish and promote your books and a variety of advice that will help you sell more ebooks.
Bestselling and Award-Winning Authors have written this book to help you navigate your promotional efforts and have included the newest 2014 and 2015 promo tips available
New marketing opportunities on AmazonHow to sell more e-books using keywordsHow to use built-in Amazon Promotion Tools to reach readersOnline marketing strategiesA list of websites to help boost your promotion efforts
˃˃˃ This book is a step-by-step instruction guide:
It will help you navigate your Kindle Book promotional efforts so you can sell more ebooks online.
Learn to navigate:
Kindle Direct Publishing
Kindle Countdown Deals
Kindle Unlimited
.99 Kindle Deals
All Kindle Promos
˃˃˃ Learn a variety of Advanced Kindle book marketing and Kindle Bestseller tips:
How to use LinkedIn
How to use social media forums like Twitter and Facebook
How to use your Book Blog
How to use Virtual Book Tours
How to get Book Reviews
˃˃˃ Many Author Tools:
Included in this self-publishing book marketing guide are numerous links to help you with book design, book publishing and book marketing.
We also discuss the importance of keywords and book descriptions.
While the focus of this book is selling on Amazon, many of these formulas will help you at other retail sites. If you apply what you learn, your book sales should increase. Of course, we can't promise you Bestseller status but we can show you how to make real progress, as we have.
Here's to your success and feel free to visit our website for free and paid book promotions: http://kindlebookpromos.luckycinda.com
Don't miss out on making this small investment: Under $5 for a product full of necessary author tips and tools