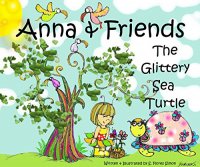 Bargain on 2nd Dec 17



or borrow free on Kindle Unlimited.
No reviews yet.
Anna & Friends: The Glittery Sea Turtle
While Anna is busy picking flowers for Grandma, she meets a glittery sea turtle who got lost in the woods. Will she be able to help the lost turtle find her way back to the ocean?
Come join Anna on her very first adventure!
In this book, you will also meet Anna's best friends Papaya, Strawberry, Banana, Mango and Watermelon!
About the Book
This interactive book will engage kids through dialogue with its bubbly and colorful characters!Its fun illustrations will stimulate and encourage the child's imagination.Moral lessons about helping others and asking permission to parents are taught in this short story.
Get this Kindle book as a gift for your little ones for only $1.99!
About the Author
S. Flores Simon is an artist and a mother of two who lives in Geneva, Switzerland. One day, Sophie, her oldest niece asked her if she could write and illustrate a book based on the characters that her mother created for her at bedtime. This sparked an interest which eventually hatched from an idea to a book.
The passion for creating and publishing this book is a gift to her children and nieces who love the story and characters so much. Today, she would like to share this simple and fun story about Anna and her bubbly friends with children all around the world!