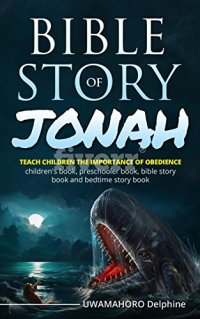 Bargain on 19th Jun 18



or borrow free on Kindle Unlimited.
No reviews yet.
Use this book to teach children the importance of obeying God using the bible story of Jonah
.
Today only get this book for just $0.99.Read on your PC, tablet,mac,kindle device,smart phone
You are about to discover how to obey God and do the right thing even if we do not want to or when it is difficult. So long as we are doing the right thing that will not make God angry, we should always be obedient so that everything may go well for us.
In the story of Jonah, we see that the prophet was sent by God but he decided not to go to deliver God's message. Instead, he chose to run away. He had very good reasons why he did not want to go to those people. First, he was afraid they would kill him because he was an Israelite. Secondly, he did not like the people from that land and thirdly, he was sure that they would not believe him. All these reasons may have made it seem right that he should not set foot on that land.
Did Jonah's reasonable reasons make his disobedience right? No. We see that God got angry with him and sent a storm to the sea. He and the people sailing in the same ship as him almost died because of his disobedience.
When it comes to being obedient, your reasons do not matter. For instance, God tells us to love our neighbors as we love ourselves. This means that you should love all your neighbors, even those who are not nice to you. God just wants you to love them, even if they are mean. If you obey, you will see that good things will happen. They may even change and be your best friends! You need this book
Here is the preview of what you' ll learn in this book
li>It Is Good To Be Obedient Even If We Have Good Reasons Not ToGod Will Spare Your Life When You ObeyObedience Is For Our Own GoodIf You Are Obedient, You Will Stay Out Of TroubleObedience Is The Best Way To Show LoveIf You Are Obedient You Have Happier RelationshipsGod Demands That We Obey; He Requires This More Than Anything Else And much, much more!
Take action now and get this kindle book only for $0.99!