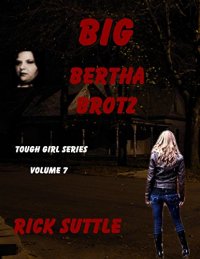 Bargain on 29th Jan 17 - 2nd Feb 17



or borrow free on Kindle Unlimited.
No reviews yet.
Three women who've just been out drinking and country line dancing crash their car on a dark, desolate rural road. Little do they know they've just run into a pickup truck owned by Bertha Brotz, a legendary girl athlete who's just blown the state shot put championship for her high school. Bertha is already steamed about the humiliation and gets out of her truck to confront the trio. She asks for the license and registration of the driver, Barb Jenkins, who at first refuses. But when Bertha grabs her neck and orders her to show her the documents, Barb has no choice but to comply. The girl then tells the women to step out of the car with their hands on their heads.
With no intention of letting the infraction go, Bertha searches the slim women for weapons. Then one of the two blondes kicks her in the stomach with her cowboy boot, which sends Bertha into a furious rampage.
At 6'4″ and over 300 pounds, Bertha easily destroys two of the women, prompting Barb to take off running through a dense cornfield. Bertha chases her through the field with her truck and tries to run her over.
When a confrontation ensues, Barb uses everything at her disposal to fight the teen off, but gets bruised, bloodied and battered in the process. After getting knocked out, she later awakens in an old abandoned house, only to discover she's been tied up on a bed. Barb soon realizes what the girl has planned for her, then a brutal fight for survival ensues. This is the seventh volume of the "Tough Girls" series, following the theme of smaller women overcoming dubious odds, trying to win fights over much larger adversaries.