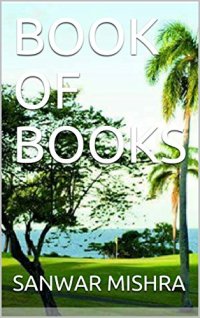 Free on 6th Oct 17



or borrow free on Kindle Unlimited.
No reviews yet.
This title presents multi-functional topics to serve the reader interests. Often, there are individual books of novels, story, quiz, quotes, humor, jokes and poetry etc. but they create monotony; as reading the same stream of subject one gets bored. Here, attempt is made to present them together in one combination i.e. something of everything. Just as a good dinner has a menu of soup, main dish added with sauce, pickles, salad, fruit juice and concluded with a sweet dish.
Why should one read such a book? Because daily life is full of tension; so one seeks to take a break, get entertained, refreshed and recharged to continue and maintain his pace of working. Students suffer from the fear of failure in the examination; subordinates are tensioned to do their best to ensure that the boss remains pleased; executives are under pressure to operate the business so as to generate profit for survival and so on. This book refreshes and prepares for facing competition in life in many spheres of activity. For example, the chapter on the journey from home to school implants in students the seeds of facing challenges in life. It helps in meeting career goals and enhancing mental and intellectual personality.