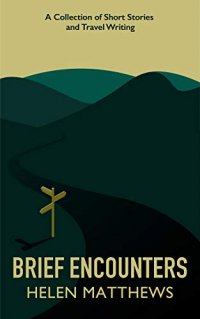 Free on 11th - 13th Sep 21



or borrow free on Kindle Unlimited.
No reviews yet.
Welcome to Brief Encounters, a compact collection of short stories, flash fiction and travel writing. Short stories and travel writing? In the same book? Why not…
In her novels and short fiction, Helen Matthews likes to walk on the dark side, delving into the more twisted aspects of family and relationships, as in her chilling stories, 'Invisible' and 'Happy Families'. By contrast, the stories 'Community' and 'Coal' have a bittersweet melancholy as Matthews revisits left-behind communities and tragedies of the South Wales mining valleys remembered from her childhood. Atmosphere and sense of place give these stories a realistic edge, forming a bridge to Matthews' more upbeat travel writing.
When writing about foreign places, Matthews leaves in-depth facts and history to the guide books and seeks out the quirky and eccentric – best encapsulated by brief encounters with local people. She takes readers along on her journeys, following in the footsteps of Ernest Hemingway in Cuba and celebrating the sights, sounds, culture and amazing people of India. In Thailand she finds herself in a spot of bother, until all is revealed. While in Albania, she delves beyond the bunkers to uncover a fascinating, under-discovered country with a brutal past. Albania inspired Matthews' novel 'After Leaving the Village', which has a theme of human trafficking. She is an ambassador for the anti-slavery charity, Unseen and often gives talks to raise awareness and money to help the fight against this horrific crime.
Stories in this collection have won prizes or been shortlisted, or previously published, in magazines, anthologies, or online. This is their second outing to share with a new readership.
Judges' reports and reviewers of these stories have said:
'A pacey read.'
'At no point before the reveal is it predictable.'
'The writing is of good quality, creating a well-structured page-turner.'
'Really stood out among a strong selection.'