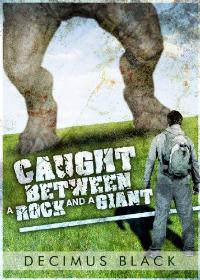 Look up at the sky, you'll see it's ugly face…
Elijah, a husband and a father, lives in a world where the trees are black and the grass is chewed on; a post apocalyptic horror. He doesn't believe in helping others, in fact, the only people he cares about is his family. The old world would have frowned upon such thinking; helping others was a sign of good breed. But things are different now. Elijah realized from a young age, that the world he was born in requires a selfish mindset. You take what you need and don't think twice about it. There's a good reason for it.
There is no food left. When the giants climbed out of the mountains, decades ago, they ate everything. There aren't any animals or crops left. The only way to get food, and the only way to survive, is to do something that people are used to now. Hunt giant droppings.
When food runs out (again), Elijah gives his newborn son, Xavier, and wife, Destiny, a kiss on the cheek and head up — away from underground. He knows the only place safe from giants is down below, but he also knows that giants only travel during nighttime. A whole day outside is enough time to hunt for food.
Elijah soon meets,
Dylan, the only man with a working police car and a badge on his hat (in a post apocalyptic world). Dylan believes that food should be shared, even if it is shit, and that if people just keep taking what they want — that humanity will go extinct. He drives his car around, the rusted-dented-thing, and acts like he's still sheriff.
Their beliefs in what is wrong and what is right, in a world where rubble is everywhere, clashes. They are forced to deal with it amid other much more sickening problems — the giants are changing their behavior. Post apocalyptic survival just became impossible.
If you enjoy fantasy and science fiction, go read a free sample above at the "Look Inside!"