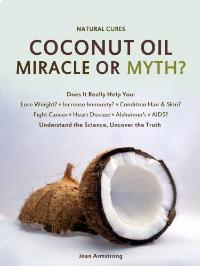 Which one of these popular Coconut Oil Cures have you believed?
– Coconut Oil for Weight Loss

– A Body & Liver Detox

– Fix Skin Issues (namely acne and age spots)

– Prevent Cavities through Oil Pulling

– Repair Sluggish or Damaged Metabolism

– Coconut Oil as a Cure for Alzheimer's, Cancer, HIV, Diabetes
Which are true? Documented? Researched?
You'll find these answers and more within "Coconut Oil Miracle or Myth?"
"Coconut Oil Miracle or Myth?" is the first book of its kind. A book without hype or huge promises of miracle cures for some of the toughest trials and diseases we may endure in our lifetime. Inside the book you'll learn why coconut oil might heal some illnesses, how coconut oil helps us lose weight, the recommended daily dosage based on your weight, and more.
Coconut oil has been the first line of defense, the first item we reach for, and one of the few consistent staples in our cupboards, for the past 20 years. You'll discover why, and how, our family uses it while getting the straight story on cures instead of simple media hype.
You'll first be introduced to the underlying science of this humble but mighty oil. With that knowledge you'll be well equipped to discern if coconut oil is truly a cure for most modern ills. Next you'll discover why coconut oil has left our shelves for so many years, why North Americans are suffering an obesity epidemic, and who might be to blame. Perhaps most important of all is the simple solution of using coconut oil to lose weight.
You'll also find over 90 common illnesses and diseases that plague us today and how coconut oil might help to alleviate the symptoms and discomfort, or rid the ailment altogether.
Finally you'll learn a handful of easy ways to get more coconut oil into your family's diet. With 9 of my favorite tried and tested, easy and delicious, recipes using just coconut oil and some standard pantry staples. You can get started cooking right away as long as you have a container of coconut oil in your kitchen! The recipes don't stop there though – there are another 14 methods to use coconut oil for personal care. These ideas will help you get the chemicals of factory-made products off of your family's skin and hair and out of their mouths.
This book has 63 direct citations and footnotes; empowering you to gain even more information through legitimate research studies.
So go ahead and "Look Inside The Book". Download a sample to discover a book that was written in a friendly voice and that contains just enough science to empower you to make smart decisions about your health.
You can also lend this Kindle book out to your friends at any time.
To Your Good Health!
Jean Armstrong