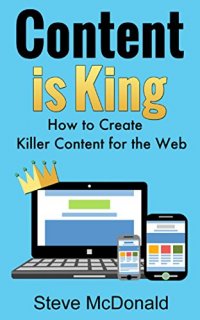 Free on 16th - 17th May 16



or borrow free on Kindle Unlimited.
No reviews yet.
Also Available as:

Valuable Content is Still King of the Web
If you can write killer content, you can:Win an audienceAttract more trafficMake more money with your writing
What You'll Gain From Reading This Book
1. You'll learn how to be more persuasive, which means people will click on your titles and descriptions, read more of your content, and click on your calls to action.
2. You'll learn how to make your content more valuable to your readers so they'll want to read more of your content. That means more traffic to your books, websites, blogs, videos, and emails.
3. More traffic means more purchases of your products and sign-ups to your email lists, which ultimately ends in more money in your pocket.
4. You'll be able to write faster because you'll have simple tools for structuring your content that you can use with everything that you write.
5. You'll feel more confident writing content because you'll know what it's supposed to look like, and you'll know how to write content that gets results.
Once you have a deep understanding of what good content writing looks like, it'll be easier to overcome writer's block and to be productive as a writer because you'll know exactly what to do each time you sit down to write.
You'll also learn:

Where to find content ideasHow to connect with your audience/li>Three ways to make your content amazingHow to write more persuasive copyTips for editing your contentDo you want to improve your online content marketing strategy for your business website? Do you want to learn how to become a freelance copywriter? Maybe you just want to improve the quality of your writing for the web?
Do you need some content creation rules to guide your copy writing? Do you need a copy writing handbook for beginners or for new entrepreneurs? Or maybe you need to improve your business writing skills for a marketing or advertising job?
This book was written for:

Website developersContent marketersSelf-published authorsFreelance writersOr anyone who needs to attract readers and make money using their wordsWhether you are creating eBooks, websites or blogs, or writing freelance articles, Content is King will lay the foundation for attracting traffic and keeping that traffic coming back.
Are you ready to take your content writing to the next level?

Click on the Buy Now button and learn how to become a better copywriter today.