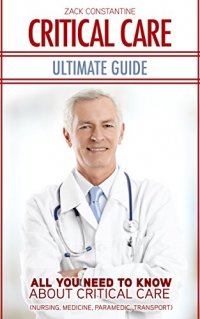 Free on 21st - 25th Aug 15



or borrow free on Kindle Unlimited.
No reviews yet.
Critical Care Ultimate Guide
Get this amazing book for just $0.99!!!

Read on your PC, Mac, smart phone, tablet or Kindle device.
Everything might seem normal for you at the moment. You can breathe normally, you can walk, you can speak, hear, read, and do literally anything that normal people do. But do you stop for a moment to think of those who are fighting to stay alive in the critical care units around the world? Well, whether you've been to a hospital visiting a critically ill loved one or have seen that in a movie, the mood within every intensive care unit is always tense. There is an aura of death moving around even as the life support machines beep every second. You simply cannot tell whether the next beep will send the nurses and everyone involved in the critical care unit running for the nearest equipment to try to save the life of the patient.
If you have no background in medicine, you could easily assume that this unit is just like many other units in the hospital. Well, this isn't the case; the team here is made of experts trained in critical care and play different roles. If you are interested in knowing about the inner workings of critical care, this book will open your eyes to the important roles that the people and every equipment in the ICU plays in keeping a patient alive.
Here Is A Preview Of What You'll Learn…
An Overview of Critical CareThe Critical Care TeamCritical Care NursingEquipment Used For Critical CareCritical Care Transport And ParamedicCritical Care MedicationMuch, much more!
Download your copy today for just $0.99! Limited Time!