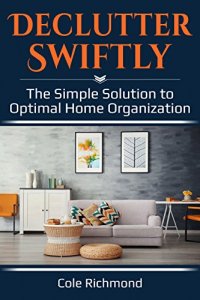 Use These Decluttering Techniques to Optimize the Organization of Your Entire Home!
We live in a very material world. Not only are our homes packed with things we don't actually need, but we keep falling into the pit of consumerism and buy more. How many times have you come back from the stores wondering why you bought something? How many times have you looked around your home and thought that you simply had too much stuff? This was practically unheard of in past times, but with the amount of information overload that we are subjected to on a daily basis, it's hardly surprising that we make mistakes and are tempted to buy things even when we don't need them. This endless desire to purchase new things creates a cluttered home.
This book takes a look at how to easily tackle the problem of clutter room by room so that you don't have to get yourself into a rut while cleaning. If you try to tackle the problem haphazardly, chances are you will end up with a bigger mess than you had in the first place. We have put order into the equation to help you to make the most of enjoying the experience. We hope that this experience is a rewarding one.
What You will Learn About the Declutter Process and Rooms of Focus
The SuppliesNote TakingDecluttering the First RoomTeen and Kids' RoomsThe KitchenThe Laundry Room and Downstairs Rest RoomThe Family RoomEntrance Ways, Porches, and HallwaysKeeping the Home Clutter Free
Turn your home into an organized and spacious place of relaxation by purchasing this book today!