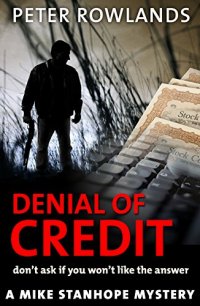 Bargain on 29th Mar 20 - 2nd Apr 20



or borrow free on Kindle Unlimited.
No reviews yet.
When a noted public figure invites journalist Mike Stanhope to ghost-write his autobiography, Mike jumps at it. He can use the money, and his life needs a new direction. But he quickly realises that Alan Treadwell is a tough and unforgiving taskmaster, and has strange ideas about how his book should be tackled.
Frustration changes to concern as Mike discovers things about Treadwell's life that he'd rather not know: things, moreover, that someone else also seems keen to keep quiet. Mike hopes he'll learn more from Joe, the original writer he's been recruited to replace, but Joe is nowhere to be found.
As Mike tries to piece together Treadwell's complex background, his hard-won relationship with his girlfriend is faltering, and his repeated absences don't help. When the prospect of an appealing new involvement beckons, his loyalties are torn and his integrity is on the line. With everything at stake, the action builds to an explosive climax as Mike finally understands what he's stumbled into.
The taut narrative and tight plotting of this third book in the Mike Stanhope series are more than a match for the standards set by the first two, 'Alternative Outcome' and 'Deficit of Diligence', delivering a fast-paced mystery with an intricate story line, vivid characters and dialogue, and a dramatic conclusion.
Mike Stanhope Mysteries
1. Alternative Outcome
2. Deficit of Diligence
3. Denial of Credit