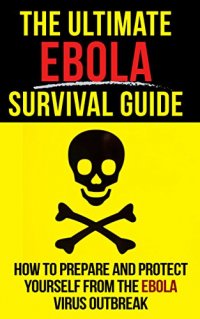 Free on 10th Oct 14


No reviews yet.
This book appears to be unavailable on Amazon.co.uk at the current time. If this is incorrect, please let us know here
Are YOU Prepared? Find out the real truth behind the Ebola virus!
The Ebola virus is once again in full force and has claimed the lives of many people.

This book will provide you with all the details needed to understand the disease and prepare for it in advance.
It has been more than thirty years since the deadly Ebola virus was first discovered. Outbreaks have sporadically appeared since the year 1976 up to the present, and there have been infections in various parts of the world, but particularly in the region of Africa. Countries in Africa that have been infected include Gabon, the Ivory Coast, Sudan, and The Democratic Republic of Congo.
The current Ebola outbreak, believed to be the largest to date, began in December 2013 in Guinea. More than 1.000 deaths were recorded in the first 10 months of 2014, and even more were expected since the disease is extremely difficult to contain in undeveloped countries such as the ones affected this time around. Lately, the disease has been spreading and cases have already been treated outside Africa, even the United States.
The Ultimate Ebola Survival Guide will provide you with all the information needed to understand this disease and prepare yourself for the possibility of a global contamination. It will also dive into the effects the disease is having on the social and economic sides of the infected countries. All in all, it aims to give you a view on the subject that is different than what is constantly broadcasted on TV and the internet.
This Book Will Teach You…
What Is Ebola?Are You On The Ebola Risk List?How To Recognize The Symptoms And Seek Professional CareHow To Prevent Ebola ContaminationHow To Treat A Suspected InfectionHow To Plan Your TravelsThe Social And Economic Effects Of EbolaMany More Helpful Tips

Don't wait any longer just to be scared and unaware of the TRUTH!
Press "Buy Now" to receive this crucial help for just $2.99! Now available on all platforms: PC, Mac, Tablet, Kindle or Smart Phone!
Tags: Ebola, Ebola Outbreak, Ebola Virus, Ebola Cure, Ebola Treatment, Ebola Pandemic, Ebola Survival Guide, Ebola Crisis, Ebola Survival Handbook, Ebola, Ebola Natural Remedies, Ebola Africa, West Africa, Sierra Leone, Guinea, Ebola Survival Guide, Ebola Disease, Protection, Prevention, Prepareness, Ebola Prepping