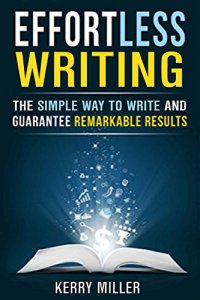 Want To Become A Best-Selling Author But Don't Know Where To Start?
Are you tired of "thinking about" writing a book, even making it a New Year's Resolution, but never making it happen?
Are you looking for a map that will take you from blank page to published author as fast as possible… without the frustration, heartache, and the dreaded staring at a blank page?
If you answered YES to any of those questions then you need to read this book
There are just so many different things to think about that it can be impossible to know where to start. This is why a professionally published author is here to help, with more than 12 years of writing experience.
I have written a complete guide from start to finish bursting with all the relevant information I wanted to know when I first started writing my book.
Effortless Writing is just like a bible that you can refer back to whenever you want in order to fulfill your dream of writing a book. It covers everything you need to know about getting started on your very own book.
Are you ready to make your dreams of writing a book and getting it published a reality?
Just imagine the day when you can sit back with your published book in your hands and feel incredibly proud of what you have achieved. When I had my first book published I never knew that the road ahead would have so many twists and turns, but with this book, you will see the light at the end of that road.
This book has everything you need to help you start writing your book. From deciding what type of book you want to write, right through to creating your characters and scheduling your time.
What will you learn?
Identifying What Market To Write Your Book For
The Working Environment Which Suits You
How To Schedule Your Time In The Best Way
Goal-Setting, Affirmations And Visualisations To Help You On Your Writing Journey
Thinking Of Ideas And Growing Them
Getting To Know Your Characters
The Correct Layout And Presentation Of Your Work
How To Think (And Write) Just Like Your Fave Author
Exercises To Aid Your Creativity
Keeping Readers Gripped

And so much, much more I can't talk about here
Would you like to learn more?
What are you waiting for?
Times ticking! Take Charge of your LIFE today by making the smartest investment you could possibly make. An investment in yourself and your future.
Don't hesitate to pick up your copy today by clicking the BUY NOW button at the top of this page!