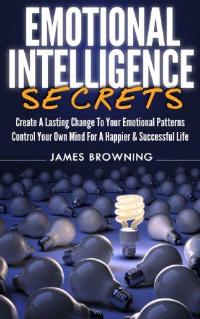 Control You Emotional Patterns For A Lasting Change
Today only, get this Amazon bestseller for just $0.99. Regularly priced

at $4.99. Read on your PC, Mac, smart phone, tablet or Kindle device.
This book talks about emotional intelligence – what it is really about, why it is essential for people to develop it, and how it significantly affects a person's quality of relationships, achievement of success, and level of happiness in life. Reading this book will help you have a better understanding of the role of emotional intelligence in your personal self-development. You may be physically strong, intellectually gifted, and financially stable, but you may have big and deep issues and concerns about handling your emotions. Emotion-related issues do not always pertain to exaggerated emotional reactions or hysterics; they can also refer to the lack of emotions or to the constant surfacing of inappropriate or hostile ones. Moreover, these emotion-related concerns may affect not just you and how you feel, but your relationships with others as well and how you connect and react to various situations.
Emotions may be spontaneous, but it does not always mean that you have to act them out or express them overtly all the time. This is where the intelligence-part comes in, which this book will also help you with. Your emotions may come in raw and sudden, but there are ways to deal with and release them. Hence, you need to have a strong presence of mind, consciousness, or awareness in order to manage how these emotions manifest. When you are highly aware of what is going on inside you, you also become conscious of the fact that these emotions may fleet or melt away just as easily and quickly as they came about. Thus, you become careful and wise in expressing and addressing the said emotions.
Another important aspect to this intelligence is controlling your emotional patterns. While it is a given and it is understood that emotions arise inadvertently, there are also roots from which they come from. These roots are what you have to control in your mind. You control them in your mind through certain ways of thinking, or having a certain mindset – which you will learn from this book. More often than not, some emotions become magnified because of how the mind feeds those roots, and so the emotions released are sometimes not commensurate to the situation or the emotional stimulus. When you know how to create the right mindset, you will shape the roots and change your emotional patterns for better, more intelligent ones.
Here Is A Preview Of What You'll Learn…
The Emotional Intelligence Formula to A Happier and Successful Life
Have Patience with Everyone and Everything
Learn to Work with What is Available to You
Don't Take Everything Personally
Keep Moving Forward
Realize That Everything Changes
Much, much more!
Download your copy today!
Tags, Self Awareness, Relationship Skills, Emotional Patterns, Mind Control, Brain Power, Happiness, success