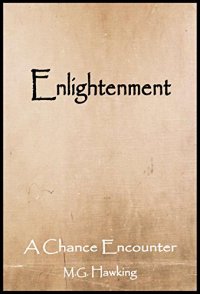 Free on 15th - 16th Jul 21



or borrow free on Kindle Unlimited.
No reviews yet.
New Release eBook exploring one of the great mysteries of life: Enlightenment … what is it?
Deep in the vast wilderness of the Great Range of the Himalaya, explorer M.G. Hawking has a personal encounter that sheds light on this intriguing question. In a tiny village surrounded by towering ice peaks, he has an experience that illuminates the deepest mystical secrets of conscious awareness and the true nature of the world around us.
Richly enlightening and inspirational, this narrative recounts the author's experience and subsequent thoughts and reflections. An account that will stay with you long after the last words have been read, this is an important book for anyone on a spiritual path and seeking expanded awareness.
For more information, please see the 'Look Inside' feature on the book's Amazon page. Thank you. A Kindle Unlimited Book. December 2016 Edition.
Library-Cataloging-Data: enlightenment, insight, awareness, consciousness, perception, esoteric knowledge, higher knowledge, Himalayan masters, ancient mysteries, visualization practices, affirmation practices, psychokinetic abilities, manifesting, personal growth, inspirational literature, adventure, exploration, Olmolungring