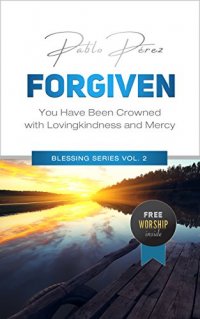 Free on 25th Feb 18 - 1st Mar 18


No reviews yet.
This book appears to be unavailable on Amazon.co.uk at the current time. If this is incorrect, please let us know here
Experience the Power of Forgiveness: this book provides "spiritual medicine" for anyone struggling with guilt, shame, condemnation and self-hatred. Inside FORGIVEN you'll discover:
Forgiveness is God's HabitHow Can God Not Remember Your Sins?Why You Must Forgive OthersThe Pounding Heart of the FatherHow to Cleanse Your Soul From All UnrighteousnessHow to Be Kissed By Divine MercyThe Fortune of Forgiven TransgressionsCrowned with Love and MercyHow to Heal a Broken NationHe Will Abundantly Pardon You
ANNOUNCING: Special Music Included–every Blessing Series book brings a unique 30-Minutes Instrumental MP3 Track (Non-Stop Music, specially recorded for each book). You get Half and Hour of anointed music at 432hz (the original frequency of creation–loaded with healing and relaxing attributes).
» You'll find this special music after CHAPTER 5. 
Why You Should Read This Book:

» For Believers, this book will help you grow in your faith and mature in the Lord. It will open new layers of understanding. New dimensions of heavenly wisdom you can apply to your life.
» For Bible Teachers, the ten chapters of this book become a powerful 10-points outline. Following the tradition of every Blessing Series book. Ready to use for all kinds of preaching and exhortation. 
» For Truth Seekers, real power and enlightenment are waiting. As you meditate and search for the Light that overcomes all darkness you should know: the Kingdom of God is at hand.
» For Music Lovers: every Blessing Series book includes a unique instrumental track. Which I especially recorded for this book. You get 30 minutes of anointed music that will usher you into God's presence. And intensify your Bible meditation times. Recorded at 432hz–the original frequency of creation–loaded with healing attributes.
Fifty Arrows With One Target
"Your word is a lamp to my feet and a light to my path."–Psalm 119:105
Imagine 50 arrows with the same target. This book is one of those arrows. 
There are 50 books within the Blessing Series and the purpose of each is clear: 
Break through of this fog of this age (the media noise that surrounds you).
To bring you the Lamp of God–His Word.
The Light that overcomes darkness and empowers you to see the journey ahead.
» Own your copy today. Take the "spiritual medicine." as instructed. Meditate on each chapter. And see what happens!