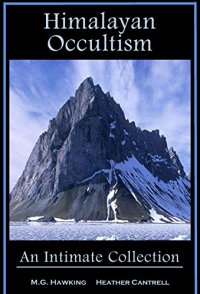 Free on 17th - 21st Mar 16


No reviews yet.
This book appears to be unavailable on Amazon.co.uk at the current time. If this is incorrect, please let us know here
You are Invited on an Intimate Journey into the Occult Knowledge and Practices of Profoundly Enlightened Individuals…
The word occult comes from the Latin occultus and refers to 'knowledge of the secret' or 'knowledge of the hidden.' Studies of the occult are considerations of metaphysics, a branch of philosophy that attempts to understand the fundamental nature of all reality, whether visible or invisible. It seeks a description so basic and all-inclusive that it applies to everything at its most fundamental level. It attempts to tell what anything must be in order to be at all. Metaphysics then has, as both its primary purpose and its only legitimate reason for existing, the answering of humanity's deepest existential questions. Religion has never really done this, even though it vociferously claims to do so.
Metaphysics relates to two traditionally contrasted, if not completely separable, areas: 1) Mysticism, referring to experiences of unity with the ultimate source and nature of All-That-Is; and 2) Occultism, referring to the extension of knowing (extrasensory perception), and doing (psychokinesis), beyond the usually recognized fields of human activity. The academic study of the occult has been known as psychical research and, more recently, parapsychology.
The individuals whose knowledge is revealed in this book were encountered by explorer M.G. Hawking while trekking in a remote part of our world, the inner region of the Great Himalayan Range. For thousands of years, the largely inaccessible portion of that magnificent wilderness has been known in esoteric literature as the Great White Island, and has inspired countless legends of a concealed society of great masters.
Years ago, in an isolated region of the Himalayas, surrounded by immense blue-white glaciers and ice peaks so high as to appear overhead, Hawking chanced upon a small village where he had the privilege of meeting extraordinary men and women–introduced as "masters" and "adepts"–possessed of knowledge and powers virtually unknown to the Western world.
The material presented in this book is drawn directly from Hawking's extensive conversations with those remarkable individuals. Fragments of their knowledge have at various times through the millennia appeared in esoteric literature, in the more profound Eastern philosophies, and in the occult wisdom traditions of various ages. In modern times, splinters of this knowledge have resurfaced in various presentations, although unfortunately absent both the most fundamental elements as well as the most advanced elements of the occult knowledge system of the supreme masters.
The occult knowledge of the Himalayan masters is all inclusive and offers the illumination and guidance which, if truly and fully understood, can wholly transform one's life. An incomparable book for anyone on a spiritual path or seeking greater knowledge and personal power.
March 2016 Release, 51,890 words, Kindle Edition Normalized Page Count (est.) 278.

Table of Contents

The Knowledge of the Hidden

Introduction by the Author

Background

About this Special Volume

— Section I: The Dialogues —

Overview

A Question of Consciousness

Concepts of "Reality"

Symbolic Constructions of "Reality"

The Potential of Occult Powers

Essential Concepts

Advanced Understandings

Occult Psychic Energy

Visualization Practice

Apex Visualization

Reflections on the Occult Teachings

Afterward to U.S. Edition

— Section II: Source Material —

The Living Part of a Legend – Book Series:

An Encounter of the Most Profound Kind

A Series of Extraordinary Events

Antiquity, Three Crowns, and a Princess Revealed

Into a Looking Glass Several Thousand Years Old

Kalika-Khenmetaten, The Supreme Egypt