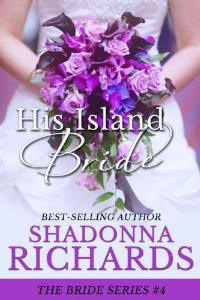 ***Now Available for a limited time only–The Bride Series Collection (8 Bestselling Romance Novels in 1 Volume) for $7.99 on Kindle, Nook, iTunes, and Kobo***
(The Bride Series novels and novellas have sold over 220,000 copies in the last year )
HIS ISLAND BRIDE (BOOK 4 IN THE BRIDE SERIES)  ***A Romance Novella
She wasn't looking for love, but love found her…while vacationing on the sunny island of Jamaica.
With mixed emotions, Jessica Mills can't wait to escape to the Caribbean–away from an arranged marriage agreement to honor her new found heritage. She is to meet her potential groom-to-be in two weeks. She finally books her long-awaited vacation to a resort in Jamaica only to be double booked in the same suite as a gorgeous, irresistible stranger–who happens to get under her skin.
Sexy, undercover billionaire, James Carrington has more on his mind than relationships. On the verge of making an important business decision that can affect his entire future and everything he's worked for, he goes to Jamaica to think and indulge in recreational activities. He did not count on having a beautiful brunette in his suite–a pleasant but ill-timed distraction. There's no mistaking the sparks that fly between Jessica and James at one of the island's hottest resorts. But Jessica is betrothed to someone else…which direction will her heart follow?
THE BRIDE SERIES: Read the fun, page-turning stories of four modern women as they stumble their way to finding happiness at the altar.
AN UNEXPECTED BRIDE- Book 1
Emma Wiggins is about to marry her heart-stopping gorgeous boss, CEO Evan Fletcher, in seven days–too bad he doesn't know it yet! Desperate to fulfill her ailing grandfather's last wish to see her settle down, she tells him a little white lie on his deathbed about being engaged to her secret crush–commitment-phobic Evan. Can love blossom in the most unlikely situation?
THE JILTED BRIDE- Book 2
Jody Anders' adoptive grandparents surprised her with a short one-day visit from New York and they can't wait to meet Gregory, her wonderful new husband with whom she eloped. Trouble is, she forgot to mention that he jilted her at the altar and is no longer in the picture. Will her gorgeous neighbour, Jake help her out?
THE MATCHMAKER BRIDE – Book 3
What happens when a lonely matchmaker unexpectedly falls in love with a
forbidden client– a gorgeous, high-flying CEO with a secret past? Read the story of Sophie Wilson and Carlos Bradley III.
HIS ISLAND BRIDE- Book 4
Jessica Mills wasn't looking for love, but love found her…while vacationing on the sunny island of Jamaica. Undercover billionaire, James Carrington thought he was through with serious relationships…that was until he met darling Jessica.
THE BRIDE SERIES 
An Unexpected Bride
The Jilted Bride
The Matchmaker Bride
His Island Bride
An Unexpected Baby (the sequel to An Unexpected Bride)
The Bride Series (novels 1-5)
 
AVAILABLE NOW!
 
ACCIDENTALLY FLIRTING with the CEO
 (A sizzling romantic novella) 
What happens when you send a
seductive email to the wrong recipient–your boss?