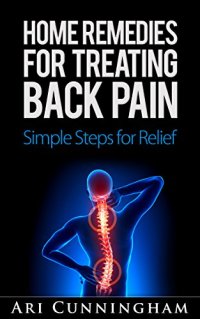 Stem Back Pain In Its Tracks
Read on your PC, Mac, smart phone, tablet or Kindle device.
"Home Remedies for Treating Back Pain" is a comprehensive guide to help sufferers to alleviate the problems of pain on a day to day basis. The book covers many way to deal with your back pain at home and may save you having to hide the pain behind unnecessary medication.
When the body hurts, the message sent through to the brain is that there is something wrong. By understanding more about how your own activity may aggravate your back, you will be able to live a pain free life. Back pain is extremely complex and can manifest itself in many ways.
Follow through the guidelines shown and you will not only learn to stem back pain in its tracks, but you will also learn how you can stop it from manifesting itself in the future. Your backbone is the very strength of your body. The book takes you through exercises and treatments help you to get to grips with problems that occur because of posture, problems that occur because of repeated actions, seating positions, etc., so that you are better equipped to keep your back pain free.
The way that pain works by sending signals also means that the pain caused by the back may indeed show itself in other areas of the body. Sciatica, for example, commonly sends pain down the back of the leg. Pain down the front of the leg can be caused by trapped nerves. Neck pain and headache can be as a result of something being amiss with your back.
By walking through all the help given by the book, which has been written by a long term back pain sufferer, you will be able to go forward in your life and learn how to strengthen the back against the ravages of pain.
Once you do, you will be very pleased that you chanced upon this book. Its intention is to help people to come to terms with what is happening to cause pain and to treat it at home so that pain is minimized and remedied by future actions which help to stop the pain coming back. It's common sense, although it's also a book that couldn't have been written by someone with little experience of back pain. The treatments suggested in the book are as a direct result of treatments tried and proven to be effective in stemming back pain. The book may indeed be your step into a new life without pain.
Download your copy today!
Take action today and download this book for a limited time discount.
Tags: back pain medication, upper back pain relief, back pain treatment, lower back pain, chronic back pain, back pain relief, back pain cure, back pain exercises, back pain solution, back pain remedies, back pain relief exercises, back pain relief treatment, lower back pain exercises