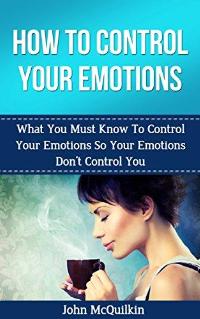 Free on 28th Aug 14 - 1st Sep 14


No reviews yet.
How To Control Your Emotions So Your Emotions Don't Control You
Today only, get this Amazon bestseller for just $2.99. Regularly priced

at $4.99. Read on your PC, Mac, smart phone, tablet or Kindle device.

You're about to discover what you need to know to take control of your emotions so your emotions stop controlling you in an easy to understand format. This book contains proven steps and strategies on how to effectively keep the bubble from bursting every time you encounter a situation that is anything outside than the emotional output you are capable of handling. Emotions can be a tricky thing, they can be caused by deep rooted pains that could have possibly stemmed from childhood; alternatively, they might just be the cause of a short fuse and a lack of patience towards, well, everything. People that may have frequent emotional outbursts may find themselves in a state of regret where they wish they hadn't done something, but still know that it WILL happen again at one time or another. It may be simple enough to tell yourself that you will stay calm, you will stay calm, you will stay calm, but when the surge of emotions comes upon you, you may find yourself giving yourself excuses such as 'I have to do this', 'I can't help it', 'it's not my fault' and regret what you just did the millisecond after that. Emotionally unstable people make excuses for themselves in order to deal with regret: 'he started it', 'I was provoked', 'it was just too much', and 'anyone would have reacted the same way'. This book will help you put an end to the regret and the excuses and begin by helping you pin point the root of the cause of your emotional outbursts; and once found, strategies to eradicate your psyche of these inappropriate feelings while you still can. I wish you all the success in the world as you take this first step at controlling your emotions so your emotions no longer control you. Remember… you can take control of your emotions and this book will help you do it!
Here Is A Preview Of What You'll Learn…
Understanding Your Emotions
The Causes Of Emotional Outbursts
Conquering The Triggers To Your Emotional Outbursts
The Secrets To Controlling Your Emotions
Taking Responsibility
Understanding The Effects of Emotional Instability
Successfully Conquering Your Emotions
And So Much More!
Download your copy today!

Take action today and download this book for a limited time discount of only

$2.99 I Know This Book Will Help You!
Tags: how to control your emotions, control emotions, controlling your emotions, emotional freedom, how to conrol your anger, how to control your emotions so they don't control you, emotional mastery, managing emotions, emotional management